The Isallt schooner shipwrecked on Ballymoney north beach, 7th December 1947. She was built in Potrmadoc, Wales, in 1909, a three masted schooner. She was 94 feet long, had a beam of 23 feet and drew 10 and a half feet. Like many of her sister ships, built in Portmadoc, she was destined for a cargo of dried fish from Newfoundland to Europe. In 1910 she made the quickest passage ever recorded by a sailing ship, 18 days from Conception Bay, Newfoundland to Runcorn, Cheshire.
She had survived all the dangers of the First World War, surface raiders, submarines and mines and she survived, not without occasional damage, twenty years of the Western Ocean's notorious gales. But now her Trans-Atlantic trading days were over. In 1933 she was registered to Mr Michael Cadogan of Cape Clear, Skibberean, Co. Cork. Since 1926 the Isallt was no longer the handsome ship she had been in her Portmadoc days. She lost one of her tall masts, her towering topmasts were discarded and a 50-horsepower oil engine was installed. Yet she served Ireland well, at a time of economic difficulties, chiefly carrying coal to southern parts. She had a capacity of 134 tons. In October 1934, she was at sea during one of the worst gales of the 30's with coal for Skibberean from Birkenhead. She met the full force of the gale off the Anglesey coast and sprang a leak. Orders were given to abandon ship. The Moelfre lifeboat took the crew off, but the ship's stout hull resisted the pounding of the waves and after she had drifted for many hours, they were able to re-board her and bring her into port.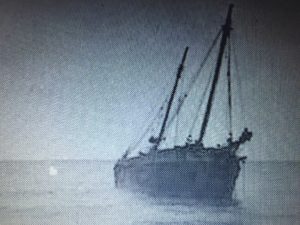 With the outbreak of the 2nd World War, the Isallt's career reached its unique climax. In 1940 she was taken over by the newly founded Marine Service and at the base of Haulbowline, converted into a training ship. The Isallt was released from war service in 1946 and became a coaster again. On her first peace-time voyage, in August 1946, she was disabled off The Baily of Howth by heavy seas and towed into Dublin by the Gas Company's collier, Glenbride. She lay in Dublin port under arrest, until the Glenbride's salvage claim was settled, when she was then refitted and passed for service by Lloyds.
She was chartered by Mr Anthony Harris of Liverpool in 1947 and he had the idea of sending her to the West Indies to trade between the islands. She was still owned by a group called The South of Ireland Shipping Company, based in Arklow. Mr Harris put in command of her a well-known eccentric Derry seaman, Charles McGuinness. On Thursday, 4 th December 1947, at 11.45 AM, The Isallt left Dublin, southward bound, reportedly the only ship to leave Dublin that day, bad weather having been forecast. Reportedly bound for Waterford, she was supposedly carrying a cargo of fertiliser (10 tons). There were seven on board, Charles McGuinnes, Master, Mr Anthony Harris, shipbroker and five others, Thomas Corkish, First Mate, John Kelly, Chief Engineer, Joseph Whelan, cook and deck hand, John Corkish, deck hand (and son of Thomas Corkish) and Miss Mary Young- duties unknown.
Soon after leaving Dublin bay, The Isallt ran into heavy seas, she began to roll heavily and some of the crew began to get sick. She continued to sail southward. The wind was south-easterly and rose to gale force. When the schooner was passing Arklow, a steamer which passed them out signalled them to turn back and run for shelter. McGuinness decided to ignore the advice and continued southward, but by midnight the situation was so bad it became evident The Isallt was in serious difficulrty. Orders to abandon ship were given and the lifeboat was lowered. It appears that all seven made it to the lifeboat, but having survived a mighty wave, the lifeboat was swamped by yet another and all were thrown into the sea. Two of the crew made it to shore and climbed their way up the rocks/cliffs at the end of Ballymoney north beach. Joseph Whelan, the deck hand/cook and John (Jack) Corkish. Joseph actually went back into the water to assist John, who was clinging on for dear life.
They eventually made their way to a local farmhouse, where they were cared for until morning (Mowatt's). The bodies of two, Harris and Kelly, were washed ashore the next morning and on the following Saturday the body of Miss Mary Young was washed up at Courtown harbour. So that leaves two bodies never accounted for, the Master/Captain, Charles McGuinness and Thomas Corkish, First Mate. Stories abound about, the almost infamous, Charles McGuinness and these will be told in the story on "Thee Captain of The Isallt" article. Did he perish in the shipwreck or did he actually make it to The Caribbean, his ultimate destination?
An inquest was held into the deaths of those who drowned, attended by locals, Mr James Clince, Mr Edward O Connor and Mr Thomas O Connor. The young deck hand/cook, Joseph, was awarded a medal for bravery sometime afterwards for assisting his crew mate, John Corkish from the frozen waters.